Coverage Area
Washington, Oregon, Idaho, Montana, Wyoming, N. Nevada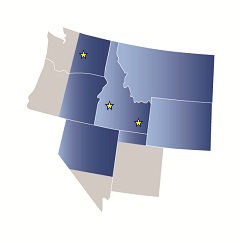 People
The cornerstone to our success is our people and their relationships with our customers. Please contact any one of us to find out how we can help with your process control requirements. We value your input and hope to develop a strong relationship with you.
Ted Hanson, President

Email: thanson@westernstatesautomation.com

Raised on a farm in Northern Iowa, Ted learned the value, and reward, of hard work. After serving in the Air Force in Idaho, he fell in love with the Lovely Office Head Honcho, and the great outdoors. He loves the challenge of every application and providing solutions with engineered products. He has 22 years of experience working with customers in wide ranging industries in the Inland Northwest.
David Wilson, Sales Manager

Email: dwilson@westernstatesautomation.com

I was born and raised in Southern California where I started my career in industrial sales. My wife and I have two wonderful children. My family and I moved to Elko Nevada to raise our children in a more rural community. In the mining industry I learned the pump and valve industry with some of the harshest applications imaginable. After 17 years, my family and I had an opportunity to move to Boise and we love it here. I am really looking forward to putting my 30 years of experience in industrial sales to work for you.
Josh Hanson, Account Manager - S. Idaho & E. Oregon

Email: jhanson@westernstatesautomation.com

I was born and raised in this great state of Idaho. I have sales experience in a number of industries and enjoy building relationships with customers. In my free time I enjoy watching sports, going on hikes, and arguing with my friends. I have a beautiful Australian Shepard named Willow and she keeps me on my toes.
Maureen Culbertson, Account Manager - E. Idaho & Montana

Email: mculbertson@westernstatesautomation.com

I have a combined love of Eastern Idaho and building connections with customers. As an outside sales representative, I have enjoyed over 15 years of experience finding the right solutions. I offer knowledge in construction, industrial, and healthcare industries while understanding key business challenges and improving productivity. When I'm not connecting with customers, you'll find me enjoying outdoor activities and creating new recipes to share with family, friends, and customers.
Pete Romero, Account Manager - Nevada

Email: promero@westernstatesautomation.com

I was born in New Mexico, then moved to Nevada in 1989. I started working in the mining industry in 2003 for Barrick Gold Corp and was there for the transition to Nevada Gold Mines. I left early in 2022 with the mindset of taking my years of experience to assist in finding solutions in any application. I worked briefly with pumps, that also lead me into the importance of valves. My free time revolves around my two kids and all the activities they are a part of. I also love to watch almost any sport, and traveling is now the biggest part of my life, both for work, and the huge bucket list of destinations here in the USA.
Curt Housley, Inside Sales

Email: chousley@westernstatesautomation.com

I was born and raised in Southwest Idaho and have a degree in Mechanical Engineering from the University of Idaho. During the 18 years that I have worked with contractors and wholesale distributors, I have been an estimator, designer, technical support rep, inside sales rep, and spent time in the field getting my hands dirty. I look forward to working with our clients to help them solve their control needs. I'm a private pilot that has a love/hate relationship with golf and can fall down a ski hill with the best of them.
Michael Willis, Customer Service

Email: mwillis@westernstatesautomation.com

In the years of living in Idaho, I've learned to slow down and explore the great outdoors more with friends and family. I have a passion of working with customers while problem solving and working towards lasting viable solutions. One of my strengths is building business relationships while benefiting both customers and the company. Over the last few years, riding the motorcycle up in the mountains with my wife is often a great pastime.
Heather Hanson, Administration/Lovely Office Head Honcho

Email: hhanson@westernstatesautomation.com

"Everything is a blur from the time I met the most amazing man on earth." Quotes like these from Heather are commonplace in the office. "I can't imagine doing anything other than whatever Ted asks". Nuff said!