Digital Meters


Digital Panel Meters

Digital panel meters are display instrumentation devices that read a variety of process & temperature input signals, process, and display that information for a user at an instrument panel or cabinet sub-panel. The most common are 1/8 DIN size digital panel meters, however Precision Digital offers a range of other sizes as well. Many have a NEMA 4X or IP65 rating; however this is only the rating for the seal at the panel, leaving the rear area behind the mounting panel exposed.
---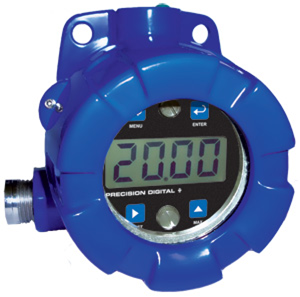 Field Mounted Meters

Field mounted devices read a variety of process & temperature input signals, process, and display that information. Field mounted products include a full enclosure around the device, and do not require a panel, electrical cabinet or additional enclosure to encase the device. They are commonly wall or pipe mounted. Many have NEMA 4X or IP65 ratings, which applies to the entire device housing.
---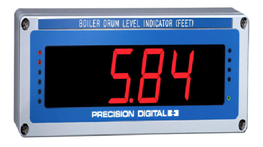 Large Display Meters

Large display meters offer the same functionality of other meters but all have displays of 1" or larger. They are available in a wide variety of case styles, input types, and functions, but all have large, clear, easy to read digital displays.
---

Loop Powered Meters

Loop-powered meters process and display 4-20 mA inputs. This 4-20 mA signal also provides all the power necessary to operate the device, so no separate power wiring is required. They are available in a wide variety of case styles, and many have hazardous area approvals.
---

Temperature/Process Controllers

Precision Digital offers a complete line of auto-tuning PID temperature/process controllers. These controllers accept process and temperature inputs and a variety of control, alarm, and retransmission outputs. Standard set point controllers are available as well as controllers utilizing ramp & soak set point programs.
---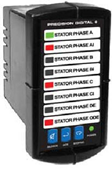 Annuciators/Scanners

Annunciators are panel mounted devices that monitor discrete inputs and offer visual indication and an audible alarm if an input alarm state is detected. A scanner allows one other meter to display multiple process or temperature inputs. The scanner cycles through each input, with a visual display of what input is currently selected, and displays it on the meter attached to the scanner. This is a simple low-cost alternative for multiple meter solutions.
---

Mult-Channel Controllers

Multi-channel controllers accept and display multiple process inputs simultaneously. Numerous relay and analog outputs can be programmed based on the multiple inputs, including control and alarm functions.
---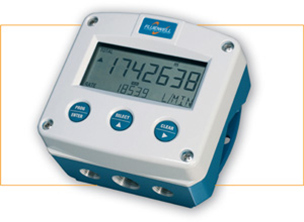 Fluidwell Products

Fluidwell F-Series controllers are a unique line of indicators and controllers for applications ranging from simple flow rate/totalizers and temperature indicators to advanced flow computers and batch controllers. All Fluidwell products come in a unique enclosure that is available as panel or field mount and have a two-line LCD display. The display includes large, clear digits and easy to read unit, status, and function indicators.
---

Wireless Products

Precision Digital wireless products and systems provide process meter and control applications where wired solutions would be too difficult or expensive. Wireless process input and control or serious output solutions are available.
---


Enclosures

A wide range of enclosures are available to mount and protect your meters and controllers.